The world slipped into a rather strange place in the last couple of years, putting a mark between what used to be e-commerce before Covid-19 and after. When the pandemic hit, we evolved into an all-year peak season status, with a very high demand from online shoppers, to which online retailers had to adapt and respond quickly. And even though the upward curve we saw e-commerce take during the corona pandemic has declined, the panorama suggests this year will be just as active as 2021.
In a logistics management survey of more than 100 freight transportation, logistics, and supply chain stakeholders1:
45% expect a more active peak season


35% expect it to be as 2021

20% expect a less active one
One thing is sure; logistics processes have had to be resilient to meet and keep up with the expectations of online consumers, which has presented online retailers with many challenges.
Keep reading to discover how Seven Senders can become your ideal partner, on and off peak season, by providing you with tools and resources to thrive in continuously-changing scenarios:
1. Daily monitoring and visibility of data
Monitoring, collecting, and analyzing data about shipping processes should be part of any online retailer's strategy and preparation for peak. Seven Senders Analytics gives you an at-a-glance view of all orders and shipments, helping you make smarter, data-driven decisions based on daily insights made visible on customizable dashboards.
In addition, it is crucial - in periods like peak - to keep a closer look at carrier performance and lead times. For outbound and inbound shipments, we help you monitor two different lead times: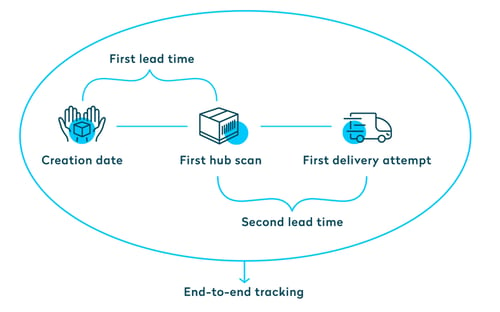 Peak insights
Based on our internal data, we observed that in 2021 delays during peak were on average about 5% higher than the rest of the year. We saw Austria, Switzerland, Germany, Spain, and France being most affected, with delays starting to rise between October and November.
We also observed a clear increase in lead times (FHS-FDA): around 10% longer in April, November, and December compared to the rest of 2021. In 2020, lead times were even 18% longer. Countries that had the most significant increase during peak 2021 were Austria, Denmark, and France.
While orders started increasing rapidly in 2021 towards the end of November, the highest orders per day were reached on Black Friday and shortly after. From mid-December onwards, however, order numbers started decreasing, and in this month, we saw the highest amount of returns.
Customer segments
Peak volumes depend on the type of goods. For example, nutrition brands like Foodspring have their peak in the new year, whereas fashion brands' peak fluctuates between November and December.
2. Management of volumes and distribution plans:
We provide our high-volume customers with a multi-hub strategy to cover alternative hubs in case of bottlenecks or capacity overflow.By having this multi-hub strategy in place, we're able to spread volumes and avoid backlogs, especially in terms of unloading/ sorting and processing the goods, which tends to be a major reason for delays. To speed up times and manage more efficient processes, we recommend setting up pallets instead of loose parcels so the loading/unloading is easier.
3. Planning, forecasting, and carrier mix solution:
Our preparation for peak starts quite early; this is why we are able to negotiate contracts with dedicated carriers, sourcing more than needed in case of forecast inaccuracies. By having access to a strong network of last mile carriers, shops can combine the strengths of different delivery companies and optimize the last mile. With Seven Senders' carrier mix in place, there is room for last-minute carrier switches when challenges arise.
4. Out-of-home delivery to speed up lead times:
With OOH (out-of-home), multiple parcels are getting delivered at a single stop, which, without a doubt, plays a very important role in lead times and FDA stats. On top, out-of-home continues gaining popularity among online shoppers due to its reliability and convenience.
Considerable investments in pick-up and drop-off networks have increased the density and attractiveness of out-of-home, which translates into online retailers not wanting to miss out on its benefits. Seven Senders supports merchants with the PUDO Locator, a new piece of software that provides access to a multitude of European OOH carrier services through one standardized and easy-to-use format.

Christmas cut-offs
During Christmas time, supply chain planning is especially challenging due to the higher amount of shipping volumes, and the shutdowns and last activity dates from freight forwarders and last mile carriers. These challenges need to be addressed and accounted for to respond accordingly.
Using our internal historical data, we can assist in properly planning transports. We are in close communication at all times with all parties from the supply chain process, which gives us the advantage to act in case additional capacity requirements arise.
Due to our large network of carriers and our efficient communication with them, we can provide our customers with relevant information about carrier integration and freeze periods in different countries - particularly important during peak season. This way, we ensure that customers who seek new carriers know exactly when they enter their go-live freeze period and can plan and react accordingly.
The Seven Senders delivery platform
Connect to the Seven Senders delivery platform via our single API and gain access to our wide network of European carriers. We ensure you work with the most suitable service providers to meet your customers' delivery preferences in each market. And with our one-stop solution, retailers can also access additional services to fulfill all their shipping needs, from a plug-and-play label solution and EU-wide digital claim management to analytics and tracking tools.
Find out how Seven Senders can help you have a successful peak season, and contact us now to receive an individualized offer.
Sources:
1.https://www.logisticsmgmt.com/article/lm_reader_survey_points_to_2022_peak_season_being_in_line_with_2021