International growth - this goal is at the top of the agenda for most online stores. A success factor for international customer acquisition and retention is the adaptation of the delivery experience to regional conditions. The following article explains what store operators should pay attention to when optimizing their shipping.
Focus on customer satisfaction
The extent to which individual retailers profit from this boom depends largely on customer satisfaction with the delivery. Because only those who are content, become repeat buyers and can be won on a long-term basis as a customer. This is underscored by surveys from Metapack, among others. For example, 37 percent of online shoppers surveyed said they would never buy from the same online retailer again after a negative delivery experience. 58 percent of consumers surveyed say they would choose another online retailer if their delivery options better met their needs.
In a country comparison, 28 percent of German, 46 percent of English and 55 percent of French online consumers say that they would prefer one online retailer over another if the latter offered more delivery options. But when is a customer satisfied? That depends strongly on the local delivery preferences and geographical characteristics of the respective countries - sometimes even regions. Favored delivery methods and times, as well as the desire for conventional or sustainable delivery can differ as much as preferred payment methods. The range of products offered by local carriers and international service providers is correspondingly diverse.
Local carriers versus international providers?
Which carrier is the "right" one? A local carrier with localized but precise deliveries or an international shipping service provider with its worldwide offers from one source? Or does it need a mix of different service providers? A different carrier strategy can be the "right" one for every store operator.
When "carrier selection", it is important to consider the advantages and disadvantages of the various carrier providers. International service providers usually have the advantage that customers have only one contact for all matters and can use the carrier's entire delivery and hub network.
On the other hand, the prices are usually higher than those of local carriers. The latter, in turn, are often cheaper and more flexible, although they can tailor their services to the delivery needs of the region, thus ensuring a better shipping experience for the end customer.
However, online merchants would have to negotiate separately with each individual carrier, especially since new carriers are being established every day in Europe, which can offer the decisive competitive advantage for e-commerce stores, especially for last mile delivery.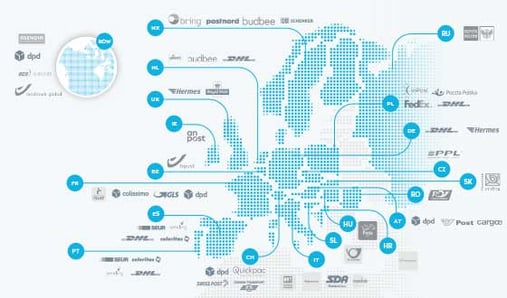 A delivery platform provides access to the optimal carrier mix
The Seven Senders delivery platform offers end-to-end parcel shipping from a single source with access to a wide carrier network and all shipping services. Seven Senders knows the national concerns and the appropriate carriers and knows which delivery partners meet the decisive criteria. This enables Seven Senders to offer online retailers the right carrier mix for the optimal delivery experience for end customers. E-commerce operators benefit from having one partner coordinate all logistics processes and have a single point of contact for all shipping issues including tracking and data analysis.