Customers already think about the return when they buy, because they don't want to get problems if they don't like the product. If the shop does its job well, they will come back. With these tips you can become a returns professional!
For many retailers, the subject of returns is a perennial issue, they wish more customers would keep the goods. But the success of many shops is due in part to the fact that customers have the option of returning their goods without any inconvenience should the occasion arise. They then gain confidence and commit to the shop: 57 percent of global customers who have had a positive experience with returning goods return to the shop (Metapack 2020).
According to Statista, Germans in particular use the return option. 53 percent stated that they had returned goods ordered in 2019, followed by the Dutch (51 percent) and the Italians (46 percent). Poles are the least likely to return goods – but even here the figure was still 36 percent.
"57 percent of global customers who have had a positive experience with returns come back to the shop"Metapack, 2020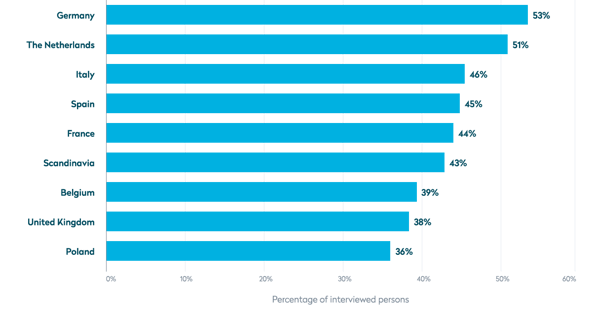 Proportion of people in selected European countries who have returned goods ordered online in the past twelve months in 2019 (Source: Statista 2019)
For customers throughout Europe, the possibility of returning ordered products is a natural part of online shopping.

For retailers, this means: If you want to retain customers, you should shine with a good returns solution. Please note these five tips:
TIP 1
Create clear return conditions
Since data-driven decisions are not made purely "from the gut" and are in the meantime, customers have made a lot of experiences with online shopping – also negative ones and often on the subject of returns.
That is why they have become cautious: More than 73 percent of global consumers read the return conditions before making a purchase (Metapack 2020), 46 percent of international customers say that information on returns has already discouraged them from buying (Metapack 2019). 42 percent found it difficult to obtain information about returns (Metapack 2018).
These figures all speak the same language: no matter what country you are sending to – the information on returns must be clearly formulated and understandable for everyone. Don't risk customers clicking to the next shop because they don't find what they're looking for on the subject of returns, the "small print" puts them off or they simply don't understand the language. The competition is too big for that – and too fast to reach on the net!
"46 percent of international customers say that information on returns has already deterred them from buying"


(

Metapack, 2020)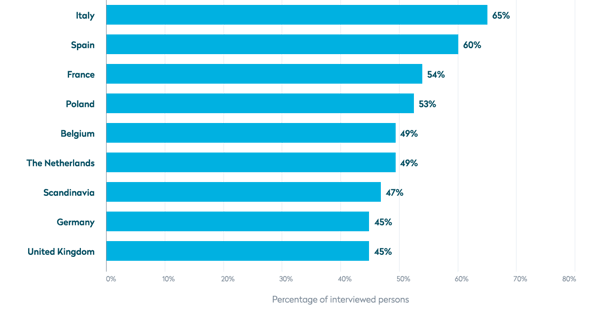 Percentage of online shoppers for whom clear return conditions are a very important argument for buying in an online shop, in selected European countries in 2019 (Source: Statista 2020)
TIP 2
Cost: Weigh up thoroughly
The question that comes up again and again: Are there disadvantages for the shop if the return costs something? Does it deter customers or are they willing to pay?
Economic research at the University of Bamberg in Germany has shown that returns could be significantly reduced with a fee – and so could CO2 emissions. However, the question arises as to whether this is in the interests of e-commerce merchants, because the pricing would then be taken out of their hands in terms of returns.
In general, it is advisable to find one's own right balance – and possibly also to adjust the return costs to the target country. After all, customer expectations vary in this respect: In Switzerland, the proportion of customers for whom a free return is an important criterion for online purchases is particularly high – it is 77 percent (Statista 2019). According to a recent representative study by the Austrian E-Commerce Quality Seal, 83 percent of Austrians use the option of returning goods, and for a third free returns are even a decisive factor in purchasing.
Retailers should consider which cost structure is best for their shop and processes. Offering a free return can possibly be "more economical" in the long term if customers use this convenience to visit the shop more often and place recurring orders.
"For 77 percent of Swiss customers, free returns are an important criterion for online purchases."



(Swiss Post; School of Economics in Zurich/© Statista 2019)
"34.7 percent of Austrians order from the outset only from online providers who offer free return shipping."



(Austrian e-commerce quality label, 2020)
"43 percent of Germans think that returns would be reduced if all dealers were to charge
for returns." (
YoGov © Statista 2020)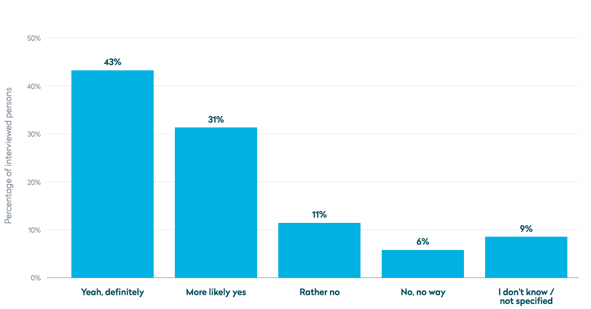 Do you think the number of returns, i.e. packages from online retailers that are returned by the customer, would be reduced if all online retailers were to charge for returns?

S

ource: YoGov © Statista 2020



TIP 3
Create an easy returns process for your customers
If the ordered product does not turn out as desired, the buyer wants to get rid of it as soon as possible. This process must be easy for customers, they also decide whether to reorder with regard to returns – 57 percent of global consumers would buy more from an online shop if the returns process were simpler (Metapack 2019). Retain exactly these customers! Make it clear from the outset that returns are unproblematic and keep this promise.
From the moment the customer has decided against the product, they must know exactly what to do. The most important thing is the returns label, which your customer should be able to access without further complications.
These two options are the traditional ones: Either the label is enclosed directly with the ordered product or the customer contacts the shop's customer support and requests the label. Both variants are cost-intensive for shops: in the first case they have to provide labels that are not needed in most cases, in the second case they incur high costs in customer service. On average, retailers pay between 0.90 and 2.50 euros per transaction (Seven Senders 2020).
Shops also have a third option: if necessary, customers create their own return label and print it out – a simple way for customers to master the issue of returns and a cost- effective way for retailers to do so.
" 57 percent of global consumers would buy more from an online shop if the returns process were easier."

(Metapack, 2020

)



TIP 4
Analyze data and optimize processes
Data provides valuable information on how to perfect the customer journey. Data on carrier performance is particularly important for the delivery and returns process. Retailers should gather all the data available to them and analyze it with a view to optimizing the returns process.
Dashboards and reports, which are precisely tailored to your deliveries and returns, help to make processes plannable, make decisions quickly and create transparency – also towards the customer.
An important benefit of efficient data analysis is the acceleration and improvement of processes. On the one hand, this is of central importance for the customer experience, because you are constantly optimizing performance. On the other hand, you as a retailer benefit from the fact that your goods are quickly returned to the sales floor.
TIP 5
Communicate proactively!
Especially when customers order from abroad, they wonder whether their product will really be received. Because only when the product has been returned safely will the buyer get their money back or they can be sure that there will be no problems regarding the refund.
Many retailers and delivery services already make the delivery process very customer- friendly, tracking and status reports are usually part of customer service. However, the returns process often remains a mystery to customers.
Send proactive status messages – in the local language of course – after the customer has dropped off their parcel at the drop-off point. Let them virtually accompany the goods until they arrive back at the warehouse. Also send them a message for credit if they have paid in advance.
In this way you will significantly increase your chances of the customer placing a next order with you, which they will then keep, because they will gain a lot of trust in your services.
Conclusion: Build customer loyalty through returns
Create a fast and convenient returns process and build a lasting relationship of trust. To do this, take care of all the individual parts of the returns process – whether it's simply obtaining the return label, perfect communication around the return or effective data analysis.
Look for simple and cost-effective solutions that save your in-house resources, so that the issue of returns is no longer a tiresome affair, but a way to set yourself apart from the competition and satisfy your customers throughout Europe in the long term.
6 reasons why you should use the Return Portal from Seven Senders
Increase customer satisfaction
A simple, fast and environmentally friendly return increases customer satisfaction. This contributes to sustainable customer loyalty.


Returns on demand: Save costs
Since the customer prints the label themself only when needed, you will save costs in any case – for printing if you enclose the label or in Customer Support if you send the label. Especially in the latter case you will incur high costs, namely approx. 2.50 Euro per return.


Get access to the premium carrier network of Seven Senders
With the connection to our delivery platform you have access to our more than 100 carrier strong premium network throughout Europe. You can also use this network to process your returns.


Connect via only one interface
The connection is made once and via our interface. From day one you can use the Return Portal and all delivery services.


Communicate proactively during the return
Tracking and proactive status messages accompany your customers throughout the entire process. They feel well looked after and are happy to order again.


Build up customer proximity for cross-border returns
The Return Portal is available in 14 languages and can be used in your shop design. It gives you the opportunity to generate an additional touchpoint and create customer proximity.
Any questions? You are welcome to contact us! We look forward to hearing from you.