Returns packages are among the biggest challenges facing retailers in Europe. One example of this is the German e-commerce trade, which had to deal with at least 315 million returns in 2020, as estimated by the Returns Management Research Group*. Millions of reasons to talk about successful returns management for more customer satisfaction and a better repurchase rate.
Alien Mulyk from Bundesverband E-Commerce und Versandhandel Deutschland e.V. (bevh) and Ruben Meulenhoff, Vice President International Sales at the delivery platform Seven Senders, explained in the web talk "A squeeze of lemon for your returns management" what is important in returns management for online retailers.
Flexibility and transparency are key to a successful returns process
According to Meulenhoff, flexibility and transparency are the best options for e-commerce companies, especially when implementing cross-border commerce to satisfy shoppers.
Dissatisfaction arises if a package takes a week to arrive and another week to get back in the case of returns. This increases if the customer doesn't hear anything about the progress of the return for days and also doesn't get their money refunded until the merchant has received the goods.
This has a negative impact on further buying behavior at the retailer. "As long as end customers are informed seamlessly, nine out of ten are satisfied, even if it takes longer," emphasizes the Vice President International Sales. "This is especially important because customer satisfaction with returns management clearly increases repurchase rates."
Therefore it's recommended that online retailers communicate seamlessly with their customers, including sending real-time tracking and mobile phone push notifications throughout the delivery and returns process. The latter, in particular, is too often neglected.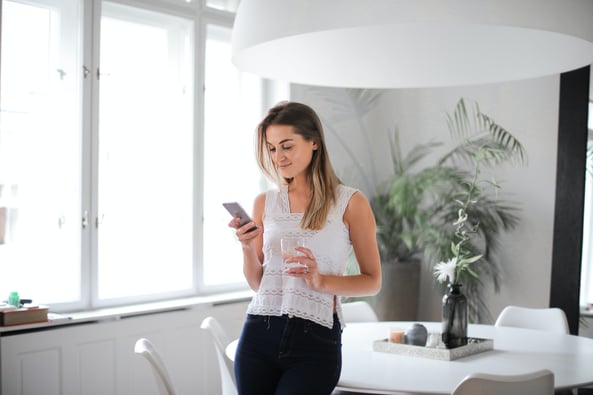 Retailers should be more communicative when it comes to the refund status of returned goods. Ideally, Meulenhoff said, the online retailer should receive the message about the return of a package at the same time as the return is scanned at the post office or a Click & Collect store. At that moment, the customer should be informed about the refund by the retailer and the refund initiated.
Thus, the customer receives quick and transparent notifications about the status of their return and especially their account balance. This has a positive effect on the repurchase rate.
Guaranteeing a simple and personal return
In addition, it is very easy for the end customer to have a digital return label received by mail scanned at the post office branch or a partner store. All they have to do is hold their smartphone up to the scanner.
Another convenient solution for customers is to receive a PDF that is printed out on-demand and enclosed with the return. This achieves another key factor for customer satisfaction: a simple returns process for customers and store operators.
Different countries, different customs: While consumers in the UK prefer pick-up and return at the front door, customers in other European countries appreciate pick-up or drop-off points.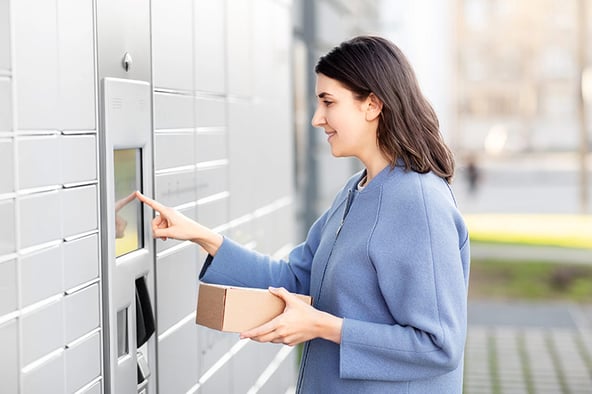 That is why it is important to rely on carriers that cater to country-specific requirements when it comes to delivery and returns.
Saving costs despite free returns
The free return of goods is at least as important for the end customer and thus for store operators. However, returns management is cost-intensive for online retailers. Accordingly, the topic is also hotly debated among e-commerce companies, as Meulenhoff explains.
"A returns fee could perhaps deter consumers from placing one or two incorrect orders. But who wants to be the first? Because the first to introduce such a fee is most certainly at a competitive disadvantage."
In addition, the legal situation in Europe is clear: Consumers have the right to return goods. But if the money were to be transferred to the customer as soon as the return is scanned in the store, the speed with which returns are transported would no longer matter so much.
That's why Meulenhoff recommends sending returns collectively to the respective destination country. This saves costs. For Mulyk, there is another argument against a returns fee:
"Who can guarantee that consumers won't throw away cheap products rather than pay the fees for returning them? That can quickly backfire in terms of sustainability."
Reduce return rates - but how?
Alien Mulyk names two levers that store operators could turn to reduce the return rate of their customers: By means of informative product photos and descriptions, the chances increase that the buyer gets what they expected.
Secondly, companies can also raise consumers' environmental awareness so that they take more care when placing orders. One conceivable approach would be to set up a "CO2 account" that awards and rewards points for sustainable behavior.
Declining returns rate but rising returns volumes
According to a study by the Returns Management Research Group at the University of Bamberg*, the returns rate has fallen from a total of 17.8 percent in 2019 to 15.9 percent in 2020.
Both agree that the reason for the rate decline is the pandemic. "People are spending more time at home because of the Corona pandemic and are paying more attention to their spending, so they are choosing their online orders more carefully," the association representative says.
In addition, some of the 2020 orders were in the home office category, which generally has a low return rate. Despite a falling returns rate in Germany, however, the number of returns is rising in absolute terms because e-commerce as a whole is growing rapidly.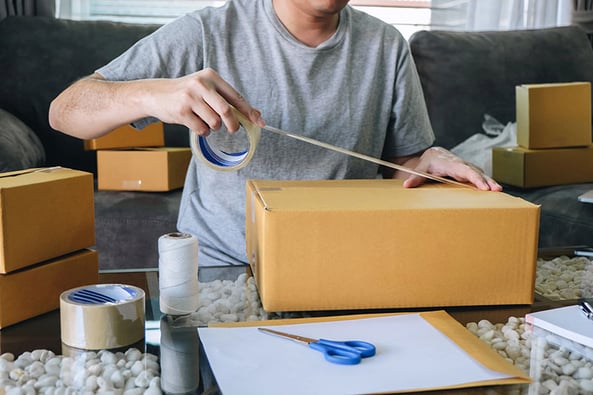 In December, the University of Bamberg assumed an increase of 17.8 percent in outgoing packages in the e-commerce business in Germany compared to 2019.
And in January, the bevh announced the revenue figures** for e-commerce in Germany based on its approximately 500 member companies. According to these figures, gross sales of goods in e-commerce in Germany alone rose from 72.6 billion euros in 2019 to 83.3 billion euros in 2020.
For Europe, e-commerce news in the summer of 2020 assumed that e-commerce companies would generate sales of 717 billion euros in 2020 as a whole, around 12.7 percent more than in 2019.
Optimal returns process thanks to Seven Senders
What options do e-commerce companies have to perfect the customer journey in returns management as well and thus increase their repurchase rate?
For a simple, seamless, flexible, and transparent returns process, the delivery platform Seven Senders, founded in 2015, offers online stores various services for optimized returns management. With the Return Portal from Seven Senders, online stores can offer their customers returns labels on demand.
To tailor returns in each country according to customer preferences, access to Seven Senders' international carrier network allows them to work with carriers that have the best network for returns.
Tracking & Notifications services provide the best customer communication throughout the returns process, so customers are always up to date on the status of returns.
Conclusion
For e-commerce companies, returns are unavoidable. However, returns management can be made so pleasant and uncomplicated that it leads to a high level of customer satisfaction - to the benefit of a better repurchase rate.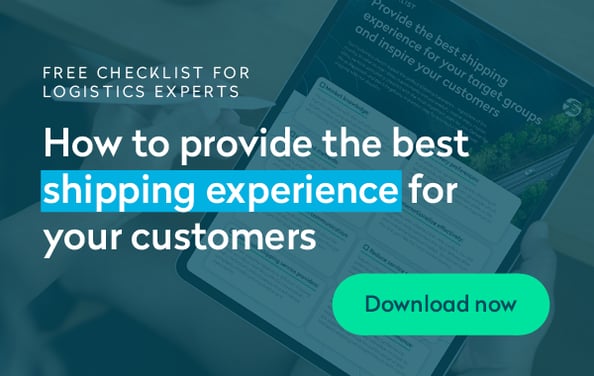 *Study by the Research Group Returns Management at the University of Bamberg on the impact of the Corona pandemic on returns behavior. In September/October 2020, leading e-commerce retailers were asked about their observations in returns management during the first six months of the pandemic (March to August 2020). A total of 103 analyzable questionnaires were generated. The companies represented in the sample combine 16.6% of total German e-commerce sales, which - according to the University of Bamberg - allows a sufficiently representative picture of the situation.
**For the eighth time in a row, the Bundesverband E-Commerce und Versandhandel Deutschland e.V. (bevh) conducted the consumer survey "Interactive Commerce in Germany" with its partner BEYONDATA GmbH. From January to December 2020, 40,000 private individuals from Germany aged 14 and over were surveyed about their spending behavior in online and mail-order retail and their consumption of digital services (e.g. in the area of travel or ticketing). https://www.bevh.org/presse/pressemitteilungen/details/e-commerce-beschleunigt-wachstum-deutlich-auf-mehr-als-83-mrd-euro-warenumsatz-in-2020-bevh-forde.html
Hintergrund:
"retail salsa - Spice up your community" is the virtual webtalk that brings retailers, suppliers and independent industry experts to the table to talk about components of a successful customer journey. Retail salsa is hosted by EuroShop - The world's no.1 retail trade fair and iXtenso - Magazin für den Einzelhandel.