Cross-border e-commerce has been booming for years. However, every country in or outside the EU has different characteristics in terms of purchasing power or payment and delivery preferences. This guide summarizes the most important opportunities and challenges for e-commerce businesses when it comes to dealing with Swiss customers.
Why Switzerland is an attractive market for e-commerce
8.42 million or 96% of Switzerland's 8.75 million inhabitants are online users. They accounted for e-commerce sales of CHF 16 billion in 2020 alone – equivalent to around EUR 14.4 billion. Switzerland is a growth market, with sales increasing by 4.63% in 2019 in comparison to the previous year.* Its multilingualism doesn't just exist on paper, it is lived and cultivated.
Here are more reasons why the Swiss market is highly attractive for cross-border trade:
86% of Swiss e-shoppers buy from abroad.

39% of Swiss customers buy products online about once a month.

High income and lower income taxes ensure high purchasing power in Switzerland.

There are four national languages in Switzerland so for online retailers from German-speaking countries, as well as France and Italy, to a certain extent at least there are no language barriers to overcome.

What to know about international shipping to Switzerland
Anyone who wants to trade successfully online in Switzerland and maintain it long-term needs to understand the preferences (and dislikes) of Swiss customers when it comes to payment for and delivery of goods from abroad. After all, an optimal delivery experience increases customer satisfaction.
Seven Senders has summarized which delivery experiences Swiss online customers see as positive and which as negative in its guide "Switzerland: A strong market for your cross-border trade." The data derives from a YouGov survey of European online shoppers, among other sources. Here is a brief summary of the key information from the Swiss cross-border shipping guide:
Preferences of Swiss online shoppers
The Swiss customers surveyed were clear about their delivery and payment preferences, with 88% preferring home delivery. Only 4% were positive about Click & Collect, 2% about delivery to the workplace, and just 1% about delivery to a parcel locker.
The majority (57%) are in favor of free delivery while 53% want transparency as to whether there are any delivery costs. 42% expect reliable delivery and one in three (35%) a simple returns process. One in two (50%) want payment by invoice. Just over two-thirds (77%) expect transparency when it comes to costs, such as taxes and fees.
Factors that deter Swiss online shoppers from purchasing from an e-commerce shop
If the return label is not enclosed in the parcel, 87% will shy away from buying online. Returns that are chargeable or a surcharge for evening delivery would stop 77% and 67% respectively from making a purchase.
More than one in two stop the purchase process if a store does not appear to be secure (57%), their preferred payment option is not offered (54.3%), a surcharge is applied for orders from other European countries (54%) or an unspecified bad delivery occurs (52%).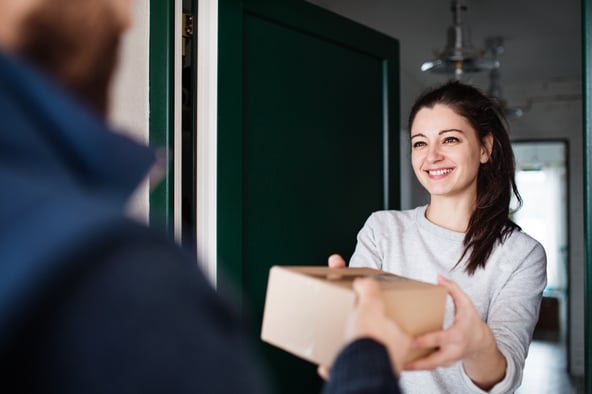 How to ensure an optimal customer delivery experience
E-commerce companies need to ensure that they provide a reliable delivery service when doing business with Swiss customers. As many as 42% of online shoppers name delivery reliability as one of the key criteria for satisfaction and one in two (52%) change online stores following bad experiences with deliveries.
Home delivery
The cited study shows that by delivering goods to the customer's home, e-commerce companies meet the expectations of almost 90% of Swiss shoppers. Preferred delivery dates/times do not necessarily need to be offered, as only 44% used this option for their last five orders.
Free delivery – longer delivery time
The Swiss also like fast delivery times, but they don't expect them. As a non-EU member state, customers in Switzerland are used to the customs clearance procedure for all imports and the subsequent delivery delays. This can also be seen in the survey results, with a total of 91% of respondents stating they accept longer delivery times if the store is not located in Switzerland. For 35%, a delivery timeframe of three to four days from abroad is considered acceptable. Almost one in three (31%) would accept five to six days and more than half (54%) would not want to pay a surcharge for quick delivery.
Impress with proactive shipping communication
When it comes to communication, e-commerce companies can ensure customer satisfaction by maintaining prompt and direct contact with the shopper during ordering, delivery, and returns. Two-thirds (76%) of the Swiss customers surveyed want to receive the update "Order was sent", 60% want to be notified that "Delivery has been delayed" and one in two (52%) want to receive the message "Payment has been refunded".
Straightforward and easy returns management
There are more return shipments in Switzerland than in any other European country. 14% of ordered items are sent back to the seller. This means it is particularly important to have a simple and transparent returns process. For the vast majority of customers, this includes a return label that is easily available: 87% want the return label to be enclosed in the package. For 60%, an option to download the label is sufficient.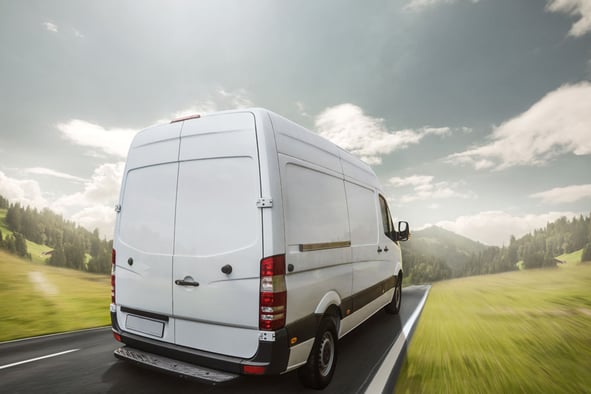 What e-commerce retailers need to know about import regulations and Swiss customs rules
Switzerland is not a member of the EU. There is a mandatory declaration and customs duty requirement for all goods imported into Switzerland. Shipments ordered online and sent to Switzerland from abroad are subject to VAT and customs duty. Purchasers of goods are responsible for payment. If the value of the goods in the shipment exceeds the legal exemption limit, the corresponding taxes and customs duties must be paid on receipt. If that is not possible because the purchaser cannot pay the charges or be contacted, the shipment is returned to the seller.
The duties do not apply if the VAT due on the value of goods, freight costs, and customs duty is less than CHF 5. The same applies to customs duty payable of up to CHF 5. The exception is that the VAT exemption limit does not apply to individual shipments made by online retailers that supply goods to Switzerland worth a total of more than CHF 100,000 per year.

Online store operators can choose between two options to comply with the statutory import regulations in Switzerland: Delivery at Place (DAP) and Delivery Duty Paid (DDP), as explained by the Swiss Post.

Delivery at Place
With Delivery at Place, the delivery service provider commissioned by the seller handles the customs clearance either directly or via Swiss Post. DAP is of most interest to e-commerce companies whose individual shipments fall below the exemption limit because there are no charges, and no extra costs are incurred for the seller or buyer. However, if consignments above the exemption limit are sent DAP, buyers will have to pay additional costs of CHF 15 to 20 per parcel, which can be a harsh blow in terms of customer satisfaction.
Delivery Duty Paid
Swiss Post, therefore, recommends using the customs clearance process for shipping consignments to Switzerland that are above the exemption limit. In this case, the seller bears the cost of the customs duty and VAT and the buyer is relieved of the burden of having to pay any charges due upon receipt of the goods – a clear advantage for customer satisfaction levels. Please note: carriers that offer DDP always charge for the process, even if the goods fall below the exemption limit.
Work with the right last mile carriers to ensure optimal delivery in Switzerland
For customers, the experience of making online purchases is particularly influential during two phases: when selecting the goods for purchase and the delivery process. To ensure customer satisfaction, it's not enough that the online shop meets all of a shopper's expectations; the delivery experience also has to meet customers' high standards. That is why it's so important for e-commerce businesses to work with delivery experts that can meet local customer wishes and preferences.
With the help of the Seven Senders delivery platform, e-commerce retailers can benefit from a network of more than 100 last mile carriers Europe-wide. Check out how you can work with the right carrier for every European country, helping to ensure a high level of customer satisfaction.
*All figures quoted and survey results come from the white paper "Switzerland: A strong market for your cross-border trade" by Seven Senders.