If you want to establish yourself in cross-border trade, you need to offer an excellent customer journey. And this includes paying special attention to the delivery experience of your goods. A multi-carrier strategy allows for flexibility, provides the delivery options customers want, and ultimately will save your business money.
A multi-carrier strategy helps save costs
The delivery phase can bring about numerous challenges, including delivery capacity scarcity, lack of personnel, and outdated processes. Since only a few CEP (courier, express, parcel service) providers have their own international logistics network, a flexible delivery network is the only way to meet the increasing customer demands regarding delivery methods, location and time. For most logistics decision-makers, that means a different carrier for a domestic shipment than one that crosses borders.


Local or regional carriers can also be less expensive than international carriers. For successful country-specific delivery, merchants must determine carrier service offerings and performance and work with the most appropriate carriers in terms of package size and weight. A multi-carrier strategy focuses on using the carrier that works best for a specific shipment based on the destination, your customer preferences, or the particular expertise of a given carrier, such as one that specializes in oversized or overnight deliveries.
The right carrier mix offers the best solution for each parcel
With the help of a multi-carrier strategy, shops can combine the strengths of different delivery companies and optimize the last mile. It is important that your carrier network can adequately cover the delivery preferences of your target market, and having the right partners on the last mile makes the difference. Some carriers are better than others for different methods of delivery, for example, home delivery, pick-up and drop-off (PUDO), express shipping, and time slot delivery.
The topic of sustainability is also becoming increasingly important for consumers, and carbon offsetting can reduce the environmental impact of shipping online goods. Shop operators can use sustainable delivery as a competitive advantage and make targeted use of shippers who deliver by bicycle courier or electric vehicles.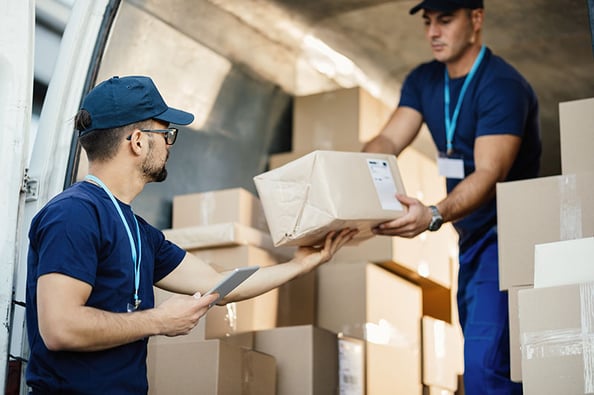 A carrier network is necessary for risk mitigation
Keeping risks to a minimum is key to any good business, and a carrier mix can save money by providing your business with options. You never want to have all your eggs in one basket. In a multi-carrier scenario, if one carrier has a problem, it's much easier to quickly switch to another if relationships are already established.

For example, if one carrier discontinues service to a particular area or areas, or if the service from a usually reliable transport partner suddenly declines, or rates go up, a business needs the flexibility to switch carriers fast. Having options reduces the risk of slow or overly expensive deliveries that upset your customers or eat into your profits. Having this sort of risk mitigation in place will save you money in the long run because if you need to react fast, you already have alternative partners. During peak delivery seasons, this can be especially important.
One partner with access to a wide carrier network: better rates via bundled volumes
Online retailers serving the European market have many delivery options – from international delivery agents to new and niche regional providers, which can make finding the most efficient and cost-effective option difficult and time-consuming. One of the best ways to access a multi-carrier network and cut shipping costs is to work with one partner with the expertise to make the process easy.

Through the Seven Senders delivery platform, you gain access to more than 100 carriers across Europe and additional services like labels, tracking, returns management, and more. As an e-tailer, you no longer have to negotiate with many different carriers in each country and benefit from better rates negotiated on behalf of the entire Seven Senders shipment volume rather than individual parcel volumes.
This is especially advantageous to e-commerce players looking to expand into new markets where they otherwise wouldn't have adequate shipping volumes to make it possible or profitable.
The right carrier strategy not only brings your package to its destination but new growth opportunities for your business!