Four tips for online retailers: How to improve shipping performance and cross-border operations quickly and efficiently.
Content
1. Observe country-specific delivery and customer requirements
2. An experienced delivery partner is needed
3. Take care of reliable customer communication - whatever the country
4. Establish a central analysis tool to monitor your supply chain
5. Well prepared for peak and crisis times
6. An example from practice
7. So: Do you want to explore new countries together?
8. Five tips for a more flexible delivery
Many e-tailer are currently planning to expand into new markets. Are you too? Experts assume that cross-border online trade will soon exceed one trillion US dollars.
In this context, the study "Visa Global Merchant E-Commerce" found out that at the moment about 66 percent of the interviewed e-commerce players sell their products abroad. 87 percent say that expansion into new markets will be one of the biggest growth drivers for their business in the future. Almost seven out of ten online retailers who do not currently deliver to other countries want to do so soon.
So much for the theory, because in practice the international shipping plan is accompanied by various challenges: How and where is the best place to start? Who can best support the implementation of the internationalisation strategy? And last but not least: Which carrier is best suited for the respective requirements in the desired destination country? The be-all and end-all here is flexibility, because only those who can act agilely can give their cross-border shipping a solid foundation.
Observe country-specific delivery and customer requirements
Infrastructure, expectations, requirements, and delivery preferences vary greatly from country to country. For example, while it is common practice in one country for customers to pick up orders from a parcel station, customers in other countries want particularly flexible delivery options, such as delivery after 6 pm. A practical example: Seven Senders customer ASOS relies on Budbee for home delivery and Post Nord for pick-up and drop-off (PUDO) in Sweden.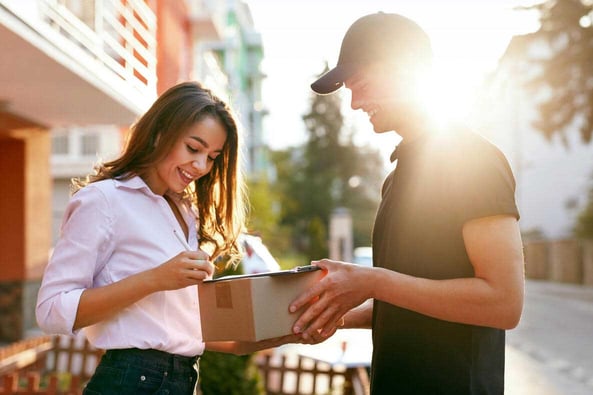 The traditional carrier covers the entire country, while Budbee is mainly active in urban areas such as the country's capital Stockholm. Click-and-collect, i.e. the collection of ordered goods in the shop, was considered the standard delivery method in the Scandinavian countries for many years.
In Germany, on the other hand, home deliveries are better known. It, therefore, makes sense to access a broad network of carriers in order to work precisely with the shipping service providers that are tailored to the needs of the customers in the respective target market.
When it comes to carrier mix, working with a partner who already has a well-functioning network makes it much easier to find the right carrier for your needs.
An experienced delivery partner is needed
As already mentioned, when starting out in new markets it is advisable to rely on a shipping partner who has the know-how about all European shipping service providers and the necessary Europe-wide contacts, because trial-and-error can very quickly have unwanted and above all negative side effects - such as immense costs or annoyed customers. By working with an experienced delivery expert like Seven Senders, expanding online retailers benefit from a bundle of know-how and services that are precisely designed for international growth.
With the connection via API to a large carrier network, retailers have faster and central access to experienced carriers in different countries. This allows them to select and test exactly the shipping partner that best meets their requirements and the needs of their national customers. If the chosen carrier does not fit the customer's needs, a change is possible faster and with less effort, as one is already connected to the platform and does not have to go completely on a new carrier search and connection.
Selecting different delivery partners, trying out new carriers, different small delivery volumes or tests further underpin the importance of flexibility when entering new markets.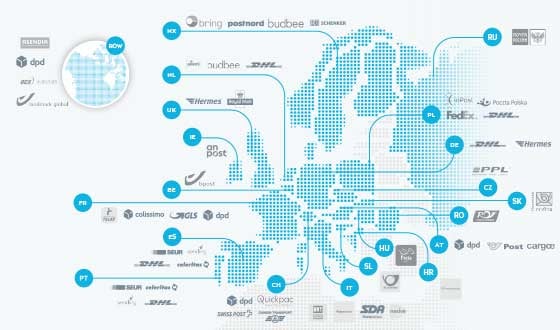 Seven Senders verfügt über ein Netzwerk der Top 100 Carrier in ganz Europa
Take care of reliable customer communication - whatever the country
In order to start successfully in new markets, it is essential to always have an overview of all processes. A centralized document repository, for example, improves the insight into KPIs and allows easy invoice verification as well as the analysis of relevant contract parameters.
Integrated analysis tools also provide traders with a clear overview of all shipments. But that's not all, because especially when difficulties arise, communication with the customer should remain in your hands.
It is advisable to leave shipping to experienced last-mile carriers, to control and play notifications and tracking from within the company. If border or hub closures cause delays in the shipment of goods, the customer should be informed promptly by the retailer, i.e. by you. Communication adapted to the respective situation or restriction is important for customer loyalty and customer experience.
An update message such as "At the moment, due to the current situation, there may be delays with our delivery agent. We ask for your understanding!" minimizes uncertainty and prevents annoyance, because the customer knows why his order may arrive later than expected, does not have to notify customer service and ideally reacts calmly.
A tracking page in the shop's own design also keeps employees up to date on the shipping status, and a Parcel Finder gives them all the information they need about the shipments. And an insurance solution is also part of the comprehensive Seven Senders support for smooth international shipping.
Establish a central analysis tool to monitor your supply chain
A study by the consultants at PwC shows that digital champions are far better able to react to new requirements and thus act more flexibly. Therefore, establish a central analysis tool in your company to have a central overview of all your carriers and shipments and to detect irregularities at an early stage.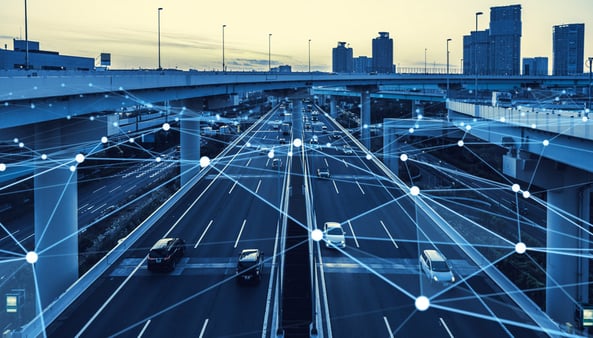 Especially when you expand into new markets, you can see irregularities more quickly. Set automatic alerts to detect deviations in the delivery process, delivery times, and delivery quality at an early stage. This allows you to react quickly and flexibly and adjust the process - without your customers noticing.
However, a central analytics tool is also an extremely useful travel companion when entering new markets, as up-to-date data and comparisons always allow you to quickly see where things are going wrong and thus react flexibly to changes.
Such a solution enables you to independently create dashboards and reports tailored to specific challenges and to establish individualized monitoring and analysis of your shipping processes in each country. With the help of delivery services Analytics from Seven Senders, delivery developments and trends can also be predicted and analyzed much more precisely than before.
Well prepared for peak and crisis times
Corona restrictions meet e-commerce boom: Flexibility and carrier mix are also advantageous in the long term in peak times and with the growing parcel volume. It may happen that a carrier cannot deliver as planned because hubs have to close. Depending on the restrictions in the country or of the individual carriers, it is ideally decided who will transport the parcel on the last mile. A swift change of delivery service can optimise processes and increase customer satisfaction, especially in difficult times.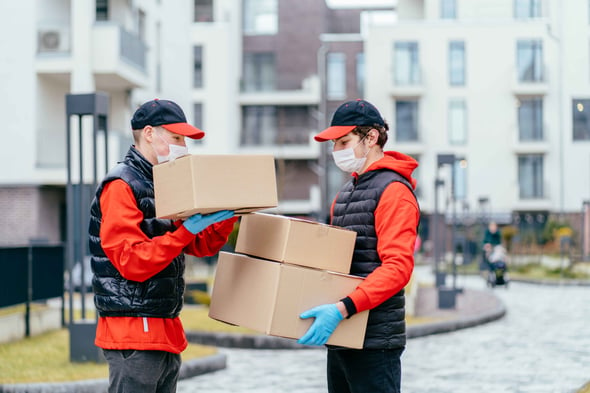 An example from practice
The example of BestSecret, fashion online retailer and subsidiary of Schustermann und Borenstein, shows why it pays to rely on a flexible carrier network instead of a large generalist when it comes to internationalisation.
In Sweden, BestSecret cooperates with the national carrier PostNord as well as with the start-up Budbee to provide customers with extra delivery options and times. In cities like Stockholm, for example, Budbee offers delivery after 6 pm or extra quiet delivery. In France, BestSecret uses Colissimo, while in the Netherlands it uses DHL NL. So the company chooses the right carrier for the respective national needs and at the same time makes sure that the customer benefits from an optimal delivery experience.
"For me, Seven Senders is a perfect partner to start in countries where you don't have a big presence yet," explains Max Strack-Zimmermann, Director Logistics Services at BestSecret. Sophia Albrecht, Operations Manager at foodspring, provider of fitness and sports nutrition, joins in: "With Seven Senders' services, we are able to transfer the quality standards we have for our products to international shipping and customer communication. foodspring has grown and expanded together with Seven Senders."
Do you want to explore new countries together?
Would you like to learn more about topics such as flexibility and cleverly planned internationalization in online trade? We will be happy to help you! You can also find more information about Seven Senders' cross-border delivery and various delivery services online.