Since 2016, foodspring has been working together with the delivery experts Seven Senders to continuously improve the delivery and customer experience - on normal days and at peak times. The fitness food retailer uses Seven Senders wide carrier network for shipping to various European countries as well as monitoring and tracking support.
Seven Senders: one contact for Europe-wide shipping
The beginnings go back to the year 2013 when Tobias Schüle and Philipp Schrempp founded the company egg.de. Today they are one of the fastest growing food start-ups in Germany and is already represented in 13 countries. Besides the DACH region, the core markets include Italy, France and Spain.
However, little has changed in terms of mission and business idea. foodspring wants to continue to launch the healthiest possible sports food on the market in 2020, which "strengthens the mind and body", but at the same time also offers high-quality ingredients. The company also wants to be healthy and balanced in terms of logistics.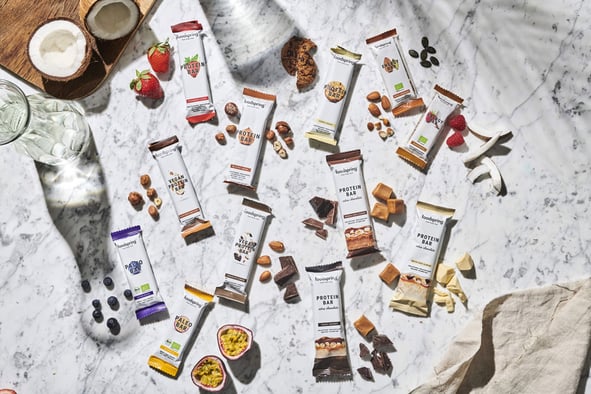 In 2016,when the company was looking for a customs clearance partner to help them ship goods to Switzerland, initial talks were held with Seven Senders. "Seven Senders has experienced partners and experts in the region. That convinced us, so that we started the cooperation with the dispatch to Switzerland", reports Sophia Albrecht, Operations Manager at foodspring.
She adds: "Today Seven Senders is our central contact for Europe-wide shipping. With the services of Seven Senders, we are able to transfer the quality standards we have for our products to shipping and customer communication".
The company works with different carriers in each of their target markets. In Spain this is SEUR, in Switzerland Post CH and in France Mondial Relay for delivery to pick-up points and Colissimo for normal parcel delivery. In Italy, they opted for Bartolini, while in the Benelux countries and Great Britain they are looking for a new carrier in collaboration with Seven Senders to optimize shipping.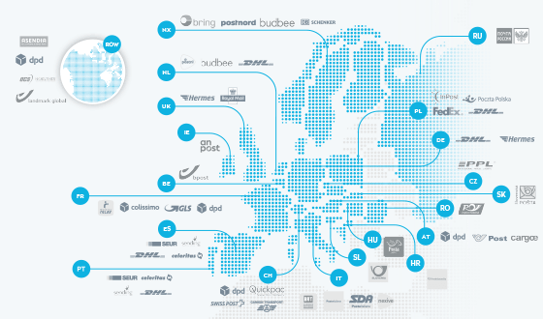 With Seven Senders wide carrier network you get access to all local carriers in Europe.
Proactive analysis helps to mitigate difficulties before customer service has to intervene
In addition to logistics support - Seven Senders picks up the parcels at the German warehouse and then hands them over to the respective carriers in the destination country. The company relies on the Seven Senders delivery platform services for extensive data-driven shipping insights, including Tracking & Notifications, Analytics, and the Claims Center.
Should the past 14 days and delayed packages be displayed? Or would the user like to see how many shipments have not yet undergone a first-hub scan? A look at the previous week, for example, can show that 100 parcels or even an entire pallet has not yet had a first-hub scan, which could mean that the wrong shipment was loaded. Even before customers contact customer service and ask about their late order, the companycan proactively intervene. Such an approach has a positive impact on important KPIs such as Average Shipping Time.
Significantly faster processing of customer requests
A further service of Seven Senders delivery platform is Notifications, which can also be designed to match the company's corporate identity, are controlled by the Seven Senders portal. The system sends automatic notifications to customers per carrier and per country, and helps ensures seamless communication for better customer satisfaction. At the same time, the shop and shipment tracking can be integrated - further aspects to optimize conversion and customer contact as well as to relieve customer service.
The same applies to the Claim Center tool, which also runs via the customer portal. Here, customers have the opportunity to complain about lost or damaged goods. Whereas the processing of such a request - ticket - took up to 20 minutes before the Claim Center was introduced, today it can be completed within three to five minutes, saving the company's customer service a lot of time.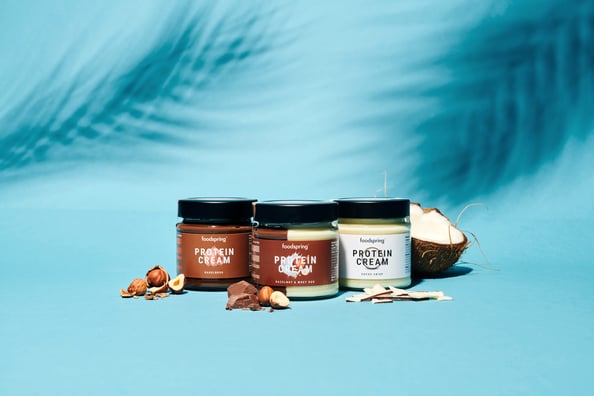 Learning from the data of previous peaks times
How well a system works can often be seen in stressful and labour-intensive times. For the company, a peak time means three to four times the amount of orders. In January, when customers want to start the year with healthier habits, in April, before the summer begins, and then again after the summer holidays.
Previous peak times serve as learning for the next one. With the help of Seven Senders Analytics, the company was able to improve the monitoring of order transmissions and shipments, and to revise customer service and communication strategies on the basis of concrete data in order to reduce the workload of customer service staff.
"This year we were just in the final stages of the first peak when the corona wave started. April was then the month with the most orders so far, which we had to handle without much preparation," reports Sophia Albrecht.
She explains: "The good thing is that we had already prepared for the January peak in December, so the communication strategies were already in place. One challenge, however, was that the last mile carriers were working at their capacity limits, resulting in delivery delays".
With the help of Seven Senders, they were able to react quickly. By adjusting the wording on the tracking page, customers could see directly what the problem of their late order might be.
Information from all carriers centralized in one place
Those who work with many different contact partners in extreme situations such as the corona crisis have to cope with an immense amount of additional work. "With Seven Senders, however, we have a central contact partner that gives us a clear overview of all our shipments with all carriers and to all countries. That takes a lot of work off our hands." explains Sophia Albrecht.
"If there are problems in the network, we can find an alternative together. And by monitoring shipments, problems can be analyzed quickly and easily. All of this helps a lot, especially in peak times," summarizes Albrecht.
The notifications as a means of communication for customer service are also an advantage: "In the past weeks, we had more than triple the ticket volume, which led to backlogs in the warehouse and also at the carrier. However, since customers were notified immediately, customer satisfaction could still be maintained at a level of 92 percent.
Based on the experiences of the past weeks, Albrecht particularly appreciates the cooperation with Seven Senders: "We are very happy about the flexibility we have built up and will continue to build on with our warehouses and the choice of different carriers. We have grown and expanded together with Seven Senders. It is also important that we have been able to continuously increase conversion and customer satisfaction."