In order to grow successfully internationally, retailers must ensure that the delivery requirements of their customers are met.
"One for all and all for one." You've probably heard this phrase from the novel "The Three Musketeers" by Alexandre Dumas more than once, right? If e-tailers and other players who want to successfully expand their business internationally are looking for a suitable motto for their strategy, they should re-model the saying a bit: "One for all, all from one." In an interview, Dr. Johannes Plehn, founder and managing director of Seven Senders, explains why it is more important than ever for future-oriented companies to have a competent logistics partner for all questions regarding carrier management and data analysis – maximum support for Europe-wide shipments.
What should online retailers pay particular attention to if they want to improve their shipping performance?
Plehn: It is by no means only important to transport parcels from A to B particularly quickly, cost-effectively, and of course without errors. More than ever before, anyone wanting to secure a slice of the 73 billion euro e-commerce cake has to focus on an individual approach to customers from a single source. This naturally includes top product quality, services, and an attractive web presence.
But it's also increasingly about addressing customers exactly where they are at that moment, surprising them with services that offer them added value and show them: "Hey, they're coming up with a lot of ideas to make me order from this store again. The delivery experience is particularly important in this context.
Can you further explain why the delivery experience is so important?
Plehn: With pleasure. Let me give you an example. Our customer BestSecret, probably known to many as a fashion online retailer and subsidiary of Schustermann and Borenstein, is currently planning to cooperate in Sweden not only with the national carrier PostNord but also with the up-and-coming start-up Budbee. The aim of this cooperation is to provide customers with additional delivery options and times.
In cities such as Stockholm, for example, Budbee offers delivery after 6 p.m. or particularly quiet delivery. Parents of small children, relatives caring for them, or home office employees can indicate when ordering that they want this option so that they are not disturbed by the parcel carrier's ringing.
In France, BestSecret uses Colissimo, in the Netherlands DHL NL. The company thus selects the appropriate carrier for the respective national requirements and at the same time makes sure that the customer benefits from an optimal delivery experience. Seven Senders brings together all relevant aspects in this respect so that the company does not have to turn to many different consultants and contact persons.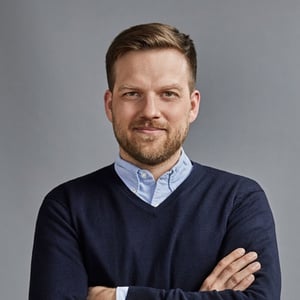 "With an experienced contact person in this field, companies can save a lot of effort and time and thus concentrate on other important tasks"
Dr. Johannes Plehn, Co-CEO at Seven Senders
Why is it better to have a single contact for carrier management?
Plehn: With an experienced contact person in this field, companies can save a lot of effort and time and thus concentrate on other important tasks. They do not have to make individual agreements and cooperate with each carrier or forwarder per country, as is usually the case. Knowledge of foreign languages in your own company, such as French, Italian or Spanish, is also not necessary. We take on all these important tasks as carrier management experts.
But that's not all: The online store does not have to enter into contract negotiations with the individual carriers in each country, because it can benefit from the negotiated volumes and rates of Seven Senders. Therefore, anyone who works with us benefits from low rates, preferred service, runtimes, and more.
In addition, the logistics team will at best notice much faster if a pallet stops somewhere or something is amiss. Should this happen, it is sufficient to call one contact, i.e. Seven Senders, and not many different contact points. One number for queries regarding tracking, analysis, and more, instead of many different numbers. This way e-tailers save themselves a lot of bother and time.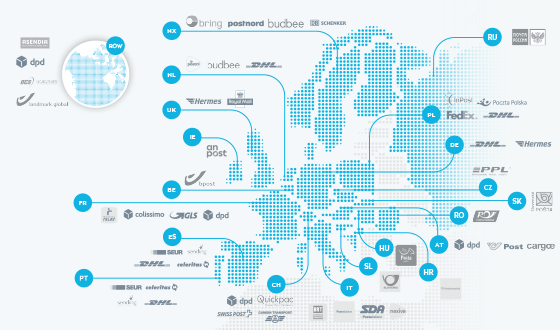 An overview of the carrier network of Seven Senders
How important is a large carrier network in this context?
Plehn: The carrier network is of course very helpful, but much more important than the size is the fact that retail companies can deliver anywhere with us and benefit from the various carrier services. And very centrally: most carriers are limited to one area. This means that the store needs a carrier who picks up the parcels from the warehouse and then delivers them to Budbee or another service provider. Seven Senders also organizes this forwarding agency. Not to mention the know-how that we pass on to our customers. And because the packages of different dealers are bundled together, prices are also reduced. And of course, it is more environmentally friendly not to send half-empty vehicles on the road.
Such a network is a great option for online retailers who want to expand into new countries and explore new markets because at the beginning of such a venture they don't have the shipment volumes to negotiate good prices. We give companies that want to grow a piggyback ride to new destinations.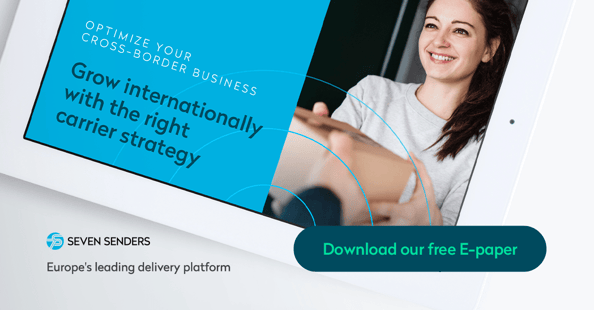 Download our e-paper to learn how to take your delivery to the next level
And how important is optimized communication with the end customer?
Plehn: One very important piece of advice: Dealers should be in the best possible contact with the end customer at all touchpoints, that's what we call the touchpoints of the Customer Journey. Various studies have already shown how important a good customer approach is. For example, in a study by Skopos, 94 percent of those surveyed said that the quality of customer service influences the brand image and for 88 percent it influences their own purchasing decision.
Delivery experience is a key factor in this respect. Automated notifications, a service product of our platform, can increase customer satisfaction and minimize customer service efforts by a whopping 30 percent. The end customer receives information on the status of their shipment and thus automatically knows where the package is located.
The store operator, in turn, needs information on aspects such as delivery performance, delivery times, or quotas. This requires reliable analysis. How can Seven Senders support in this respect?
Plehn: There is no way around sophisticated data strategies. The study "Data Management and Data Quality 2020" comes to the conclusion that the majority of companies and institutions are currently actively working on implementing and optimizing their data management. This is a good thing! Because only those who know their data exactly can gain a knowledge advantage. Therefore it is time to take care of a mature data concept. Our Head of Business Intelligence, Martin Ebel, has impressively described in a recent article why data-driven logistics is so important for decision making.
This includes keeping a constant eye on the performance of carriers, delivery, and contract KPIs because this is the only way to compare and check delivery performance, reliability or times in a really clean and clear way. Carrier performance can also be broken down by zip code or day of the week, compared with other providers or agreed delivery times. Such reports and individual dashboards depending on the issues are really extremely informative and helpful. Daily updated, automated reports are also possible so that no one has to sit down and create another manual report.
Can you give a concrete example?
Plehn: If packages with goods are misdirected, this can be quickly and clearly seen: Our analysis system informs store operators as well as us at Seven Senders that an irregularity has occurred. They can then take immediate action and rectify the problem. In such a case, customers can be informed of the delay with the help of a notification, such as: "Sorry, delivery is delayed a little. Thanks for your patience." All steps are therefore optimally coordinated and interlock seamlessly.
This means that it is possible to avoid customers contacting Customer Service at an early stage to complain about a delayed shipment. At the same time, detailed data insights help to solve the problem. But we also rely on data that harmonize across all carriers for the optimal design and planning of the supply chain. This is where our analysis services come in – always with the aim that customers do not have to turn to a different contact person, but receive all important information harmonized from one source.
Thank you very much for this interview!
Learn how you can optimize your European cross-border shipping and benefit from the Seven Senders one-stop solution delivery platform and contact us today!