We explain how e-commerce providers and online shopping stakeholders can optimally overcome the challenges of peak season and give you practical tips to maintain a rapid, reliable delivery service.
The peak season is a stress test for e-commerce. This is because peak times with the highest order volumes are often also a particularly difficult time in terms of the delivery experience, due to higher prices, unexpected delivery delays, or fluctuating product availability, for example.
What are the biggest challenges during peak times?
Peak periods for online shipping pose considerable challenges for those involved in the shipping process, a few of which are mentioned below.
From warehouse availability to staffing on the last mile, shipping capacity is stretched to the limit.

Peak season also means that logistics firms increase prices. Peak season shipping line surcharges, rising fuel prices, and increased tariffs are driving up the cost of air and sea freight.

Congested ports mean longer wait times, incurring truck queuing charges and port congestion fees, for example.

International shipments may be delayed – most recently triggered by shortages of container ships and loading capacity, as well as shipping containers and staff, in particular, along with the shortage of truck drivers in the UK and elsewhere. The fundamental availability of individual products may also be restricted.
In summary: be it coronavirus, material shortages, a lack of raw materials, insufficient staff, or Brexit – there is a perfect storm brewing this year!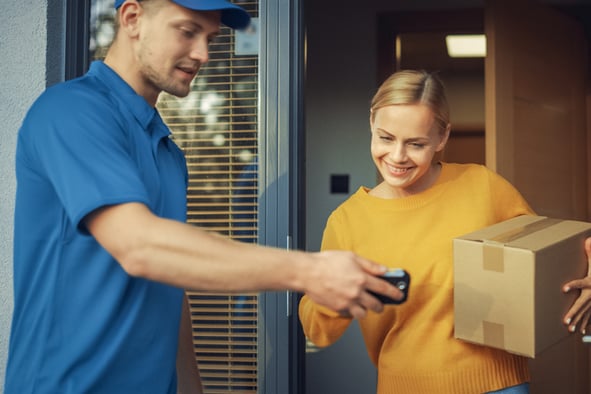 How can online retailers ensure a more reliable delivery service during peak season?
Although 2021 has been a particularly challenging year, online retailers can proactively introduce a range of measures to their shipping process, in order to optimally prepare for peak season and have everything ready, despite all the difficulties.
Keep a good stock of packaging materials and remember that while "a shortage of raw materials" may well be an abstract term, it ultimately means that your business could actually run out of packaging materials – from cardboard boxes to bubble wrap and packing chips.

If possible, spread stock between warehouses. This will allow you to operate from multiple locations, which offers a strategic advantage and maintains your flexibility.

Make sure that you always have access to a strong network of freight forwarders, in order to optimally distribute volumes as required and be able to respond rapidly during peak season. If a delivery partner encounters unexpected problems, you will be able to avoid these – thereby gaining a strategic advantage.

It is essential to consider time delays, fluctuating purchase prices in all areas, and additional fees.
How can e-commerce stores improve their delivery speed during peak season?
Now more than ever, online retailers need to be able to keep up-to-date when processing orders – and this crucially affects delivery speed. In order to achieve the optimum delivery speed, you should work with reliable freight forwarders to ensure that you meet the delivery deadlines specified by the customer. It is particularly important to work with a flexible delivery network of "local delivery heroes", i.e. those shipping specialists and providers that offer the most time and cost-efficient delivery on the last mile.
Check how feasible it is to offer your customers several delivery options, such as delivery to parcel shops and Click & Collect. This will allow you to react flexibly to customer requests and help to ensure that first delivery attempts are successful. Remember that delivery preferences of online shoppers vary from country to country!
Fast, affordable shipping with Seven Senders
The Seven Senders delivery platform provides access to local shipping specialists in various European markets. Using the right delivery partner with the right services in every region allows you to optimize your shipping processes in terms of time and cost. The right combination of carriers and shipping companies allows you to actively reduce costs.

Please contact us to learn more about our customized bundle solutions for pan-European cross-border end-to-end parcel shipping.